COVID-19 Information
Book with confidence and ease We are so thrilled to be welcoming guests back to our island home right now.
Mangoes Resort has acquired full accreditation in the 'Clean, Caring, Checked' programme which has been implemented by the Vanuatu Government/ Department of Health. This makes provision for best practices in relation to safety and hygiene ensuring the well being of guests and staff.
Rest assured we take this very seriously, our priority remains the well-being, and safety, of all guests and team members.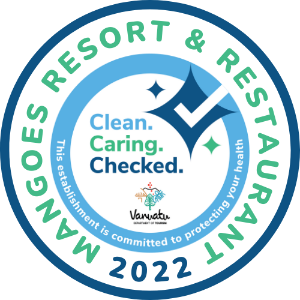 We take great pride in what we do; below is a number (but not limited to) of protocols put in place to keep everyone safe:
All staff are 100% vaccinated
To avoid crowding, limited number of guests at check in
Hand sanitiser stations are available in all public areas and on supply for all staff members.
Using the highest grade of cleaning products, extra disinfectant for high touch points like light switches, door handles.
We have reduced paper amenities in rooms.
Increased frequency of cleaning and disinfecting of public areas.
Adjusted our F&B in accordance with current recommendations. Socially distanced seating, Room service is available
Cleaning schedule at gym has been increased, with gym equipment socially distanced
We are working in partnership with Vanuatu's premier private medical provider, Novo Medical, who have an extremely experienced Australian trained GP at our fingertips. We also have our Wellness ambassador on site.
Department of Health updates are checked regularly to ensure Mangoes is continuously following official recommendations.
Isolation procedures in place should you become unwell.
Our transfer company and any tours we recommend have been awarded the triple C (cleaning, caring, checked) accreditation from Vanuatu Government.
Masks available on request
Our tropical shutters in all bungalows and Mangoes Restaurant ensure we receive a refreshing trade wind breeze year round.
What our previous guests have said
Loved staying here and the restaurant next door was a bonus. Everything was well organised and everything you look for in a resort. Really enjoyed my vacation
Vanessa
Great stay. Excellent food. Original and new cocktails at reasonable prices.
Adam Brotherson
Wonderful, wonderful, wonderful. Fab staff, fab restaurant. Beautiful rooms and gardens. Can't wait to go back.
Mitchell Swann
READ MORE REVIEWS